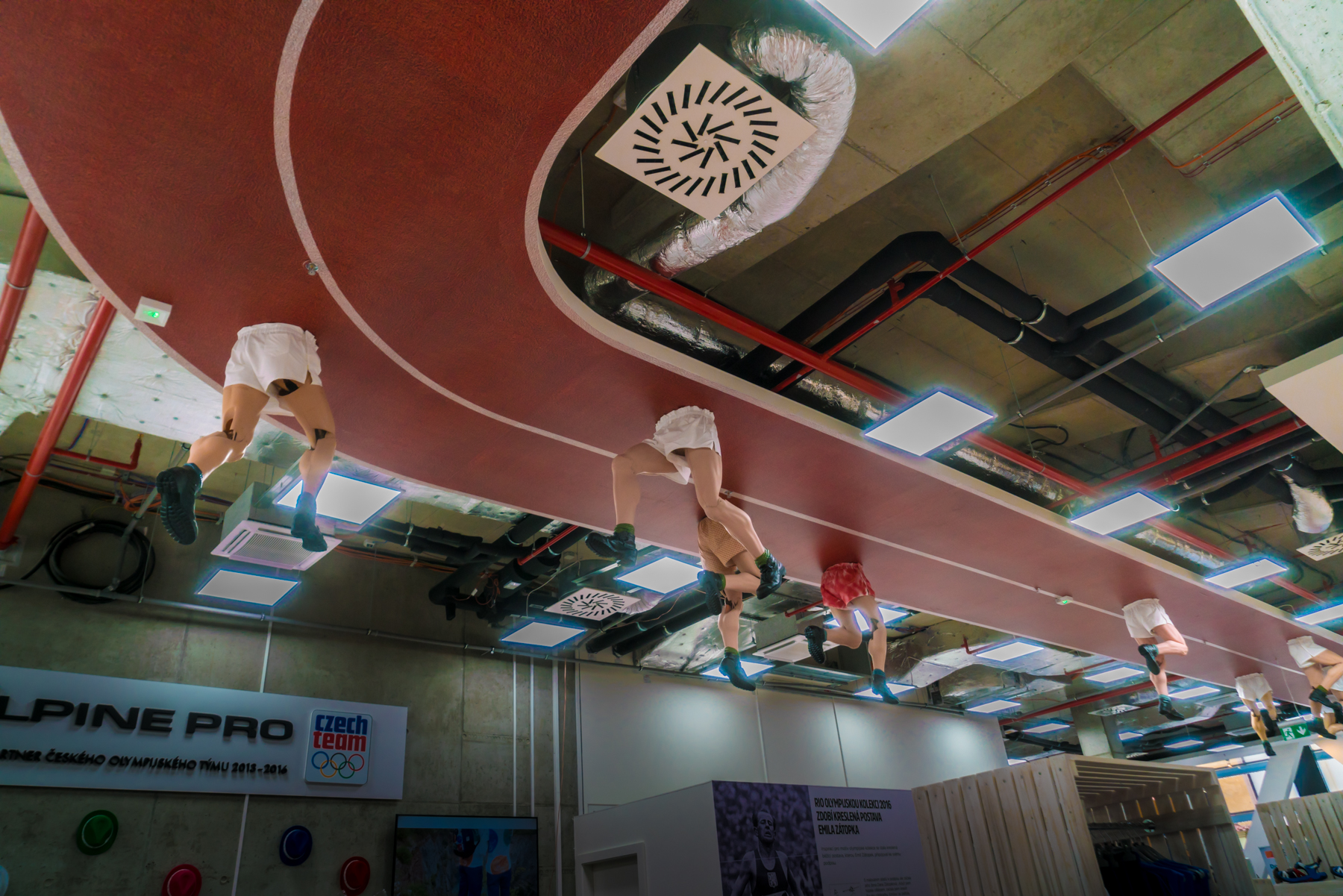 August 11th, 2016
A story told by A. Fortunat / photos (c) A. Fortunat
The Olympic games 2016 in Rio de Janeiro have an inofficial hero – even before the first competition took place: David Cerny
Already in 2012 when the Olympic games took place in London, Czech artist David Cerny created a sculpture of a huge red double decker bus. And again four years later in 2016 he produced an installation for the games in Rio de Janeiro honoring Czech's three times olympic gold medal winner Emil Zatopek (19.9.1922 – 22.11.2000). Read more about this art intervention at the end of this story.
In the end of July 2016 I visited Prague. My intention was to explore the places where Pragues famous writer Franz Kafka had lived. During my research on location I accidentally stumbled upon a larger than life-sized head of Franz Kafka made of 45 tons of stainless steel. Immediately I googled this fascinating sculpture and found out that a guy called David Cerny was the creator. I thought: "David Cerny? Hm, who the f*ck is David Cerny?"
It did not take a long time for me to find out that David Cerny was not only the creator of this massive sculpture consisting of 42 rotating layers of steel but he is also probably Czech's most famous artist alive. Things started to get more and more interesting for me. Take for example the official wikipedia entry for David Cerny, where under the heading "Early life" it only reads "Cerny was born in Prague". But: "who the f*ck IS David Cerny?"
Spontaneously I decided to get out of my bohemian style AirBnB appartment in Prague because I felt that I must see the artworks of Cerny personally. Many of them are supposed to be in public places all over the city. Nevertheless I did not only want to visit these places and take pictures like every other tourist does. For me as a passionate photographer I needed to do it "my way". It turned out that this way was to take pictures from Cerny's artwork through the viewfinder of my over 50 year old analog Twin Lens Reflex (TLR) camera, a Rolleiflex 3.5F. Before I went out, I sent a short e-mail to David, asking him for an interview. So now join me my exciting journey!
Day 1 – morning: "K on sun"
At 10:00 AM – for me this is still in the morning – I walk into one of the big shopping malls in Prague called "my narodni". I just want to buy something to drink. As I leave the building through the rear exit, suddenly a massive head of Kafka appears in front of me. I am very impressed about the moving layers that produce strange shapes and reflections all over the place. Immediately I recognise the shape of the nose and the clean-cut features of Franz Kafka. Every second person now is a tourist and takes a selfie or photos from his or her beloved one with the sculpture in the background. I spend at least one hour there.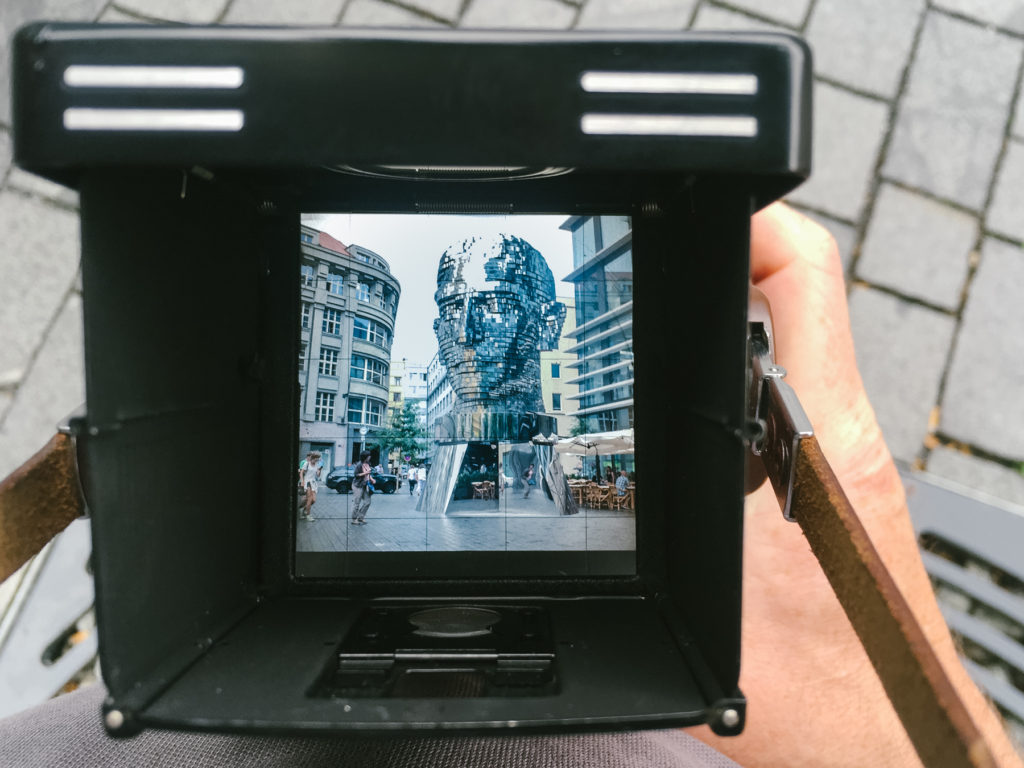 Day 1 – lunchtime: "Brown nosers"
From my research I have learned that the next location will not be so easy to find. At least not by walking as it is on the other side of the Moldau. I am looking for a location called "Futura Gallery". Thanks to the mobile phone app of the Prague Transport company ("DPPapp") I know that I just have to take the tram #9 to Svandovo divadlo and catch the Bus #176 that brings me to the stop Holeckova. The gallery itself is very unremarkable and located within a residential complex. A young lady at the counter tells me that the installation I am looking for, is a few steps down and then right outside in the garden. And there it was – two sculptures each representing the back of a human but about 4-5 meters tall. A metal ladder leads you straight up to the back "black hole". I climb it up because I am curious. There is nothing inside I have to notice a little bit disappointed. Later I will read that originally there were small monitors inside that showed a video about former Czech president Vaclav Klaus and Milan Knizak, director of the National Galery of Prague.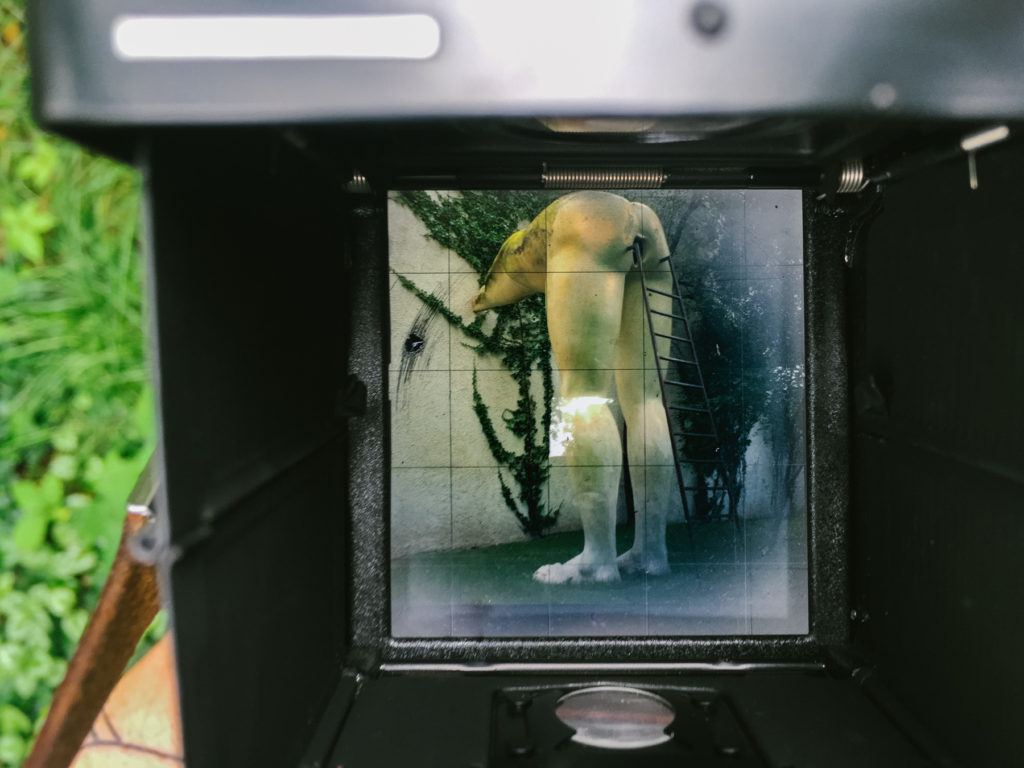 Day 1 – afternoon: "Quo vadis"
After having lunch in a traditional Czech pub I decide to take a 30 minutes walk to the German Embassy in Prague. In the garden of the premises I discover a sculpture made of stone. It is a Trabant car but instead of wheels there are four legs attached on which the body of the car rests. Immediately I feel amused. At least the meaning of this sculpture for me is clear (naturally I have googled it before): It represents the new ability to move for the East Germany people in 1989 right after the wall came down.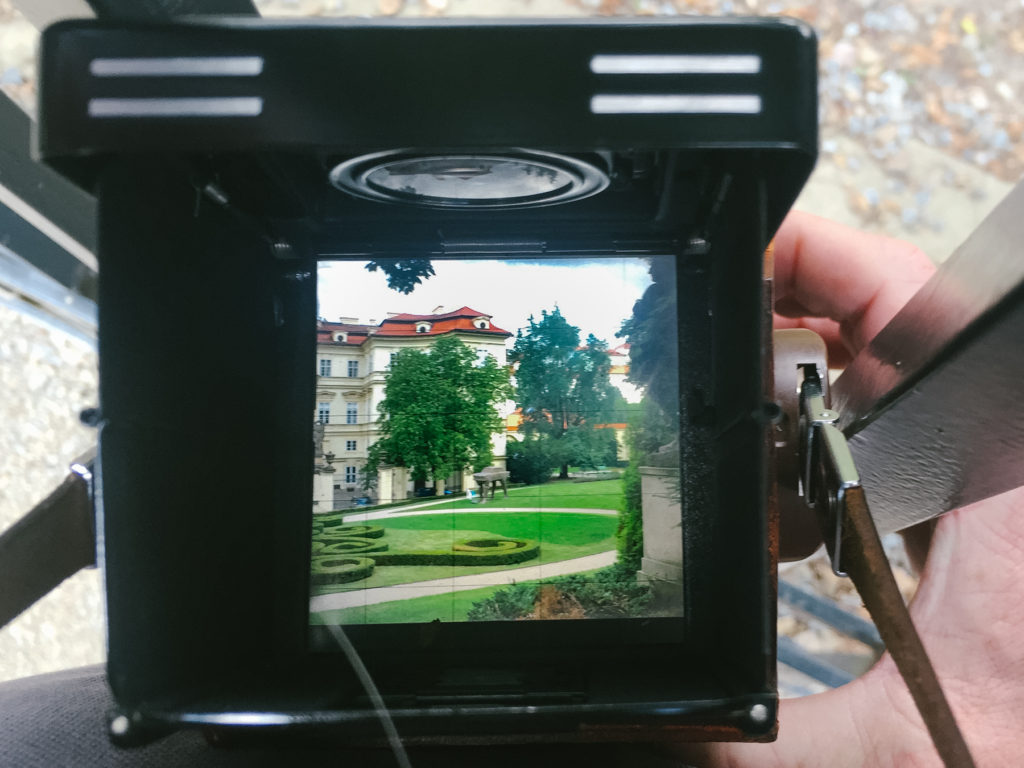 The end of day 1
Very tired I return back to my room in Prag. It has been a kind of overload of impressions and feelings all over the day. When I check my e-mails surprisingly there is an answer from David Cerny himself in my inbox. He apologizes and explains that he has no time for an interview because his next installation called "Zatopeks legs" is just to be introduced during the Olympic games in Rio 2016 and he is very busy with the preparations. This is no problem for me, as I did not really expect that such a famous person will have the time to spontaneously meet. I decide to take one or two cans of the excellent tasting Czech Pilsener beer before I go to sleep.
Day 2 – morning: "Piss"
I leave the house and my appartment at about 09:00 AM. My plan is to be early at the Kafka museum which can be found very close to the Charles Bridge and the Moldau. Right after passing the two huge entry gates two statues – obviously male ones – block my way. They stand both placed in a base pool of water. Both of them holding ther penises and peeing. While doing so their penises and their pelves are moving. Viewing them feels somehow strange. I try to find out about the meaning behind but after a while I give up.
Day 2 – morning: "Miminka (Babies) in Kampa"

My next stop is not far – it only takes me about 10 minutes walk on the riverside of the beautiful Moldau. When approaching the Kampa Park I can already see the shapes of three babies. But these were really huge. The nearer I come the bigger they get. Although the babies seem to be in a crawling position their heads are about 2 meters above ground. And again there is some disturbing discovery: the babies have no faces. Instead there is a vertical opening where you would find the eyes, nose and mouth. I have to admit that they look a bit scary. As before I leave this place with many open questions in my mind.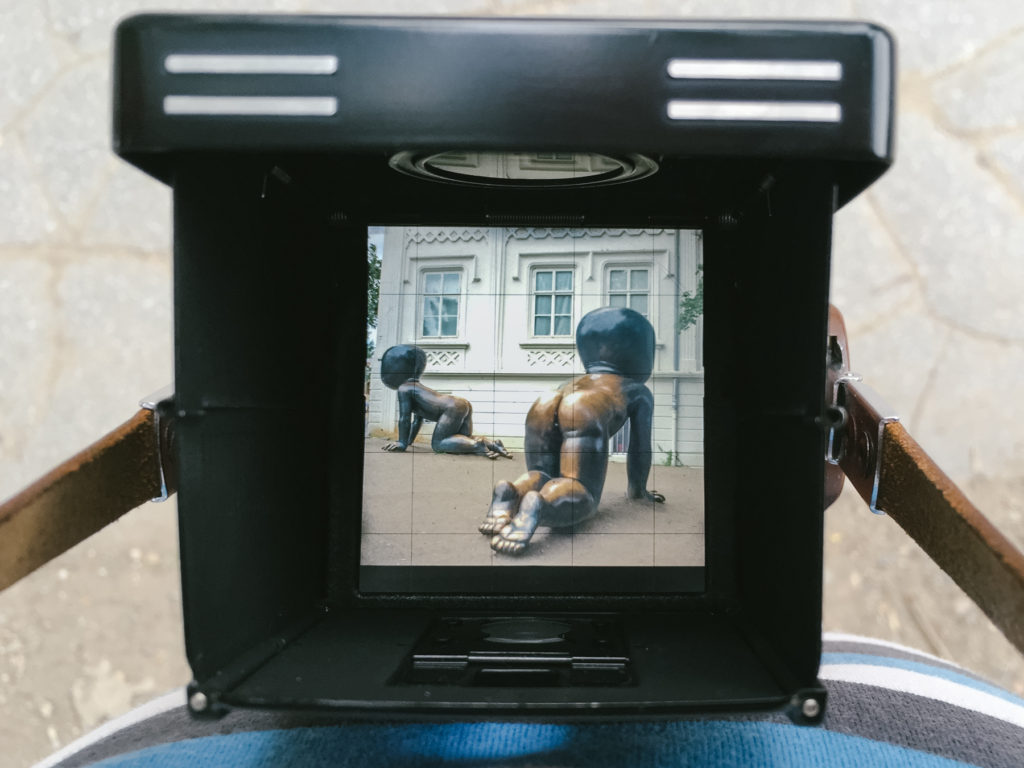 Day 2 – lunchtime: Zizkov Television Tower

The metro line A brings me to the statioin Jiřího z Poděbrad. Passing a small park I can already see the Zizkov Television Tower. Its 216 metres antenna spire can be seen from almost every place in Prague. The construction has been completed in 1992. However in the year 2000 David Cerny has attached serveral sculptures of babies crawling upwards and downwards the pillars of the tower. As I walk close to the tower the babies get bigger and bigger. As before I can only stand at the bottom of the tower with my mouth wide open and starring at the artwork.

Day 2 – afternoon:  Zatopek's legs
It is my last day in Prague and I wanted to take the metro B at the station Narodni trida. This is the place where I originally discovered the sculpture of Kafka's head. I walk again into the "my narodny" shopping mall in order to buy some food. Very surprisingly I find another installation of David Cerny: on the first floor there is an outlet store of the Czech olympic team and on the ceiling I can see the newest creation called "Zatopek's legs". This installation is going to be revealed at several locations in Rio de Janeiro during the Olympic games 2016. And thus the circle closes for me.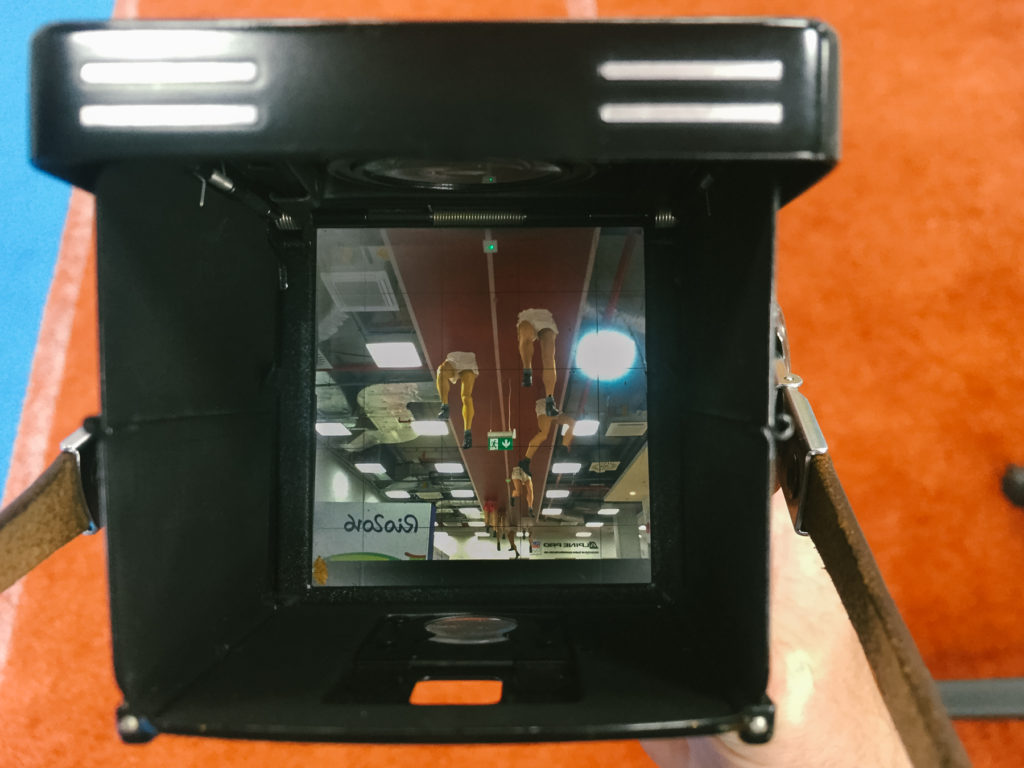 Back home
On my three hours car drive from Prag back to Vienna my head is full of pictures and impressions about this very interesting artist David Cerny. For me there are many open questions but these are to be answered in the future.
more info about ⇒ David Cerny
More photos of David Cerny's sculptures in Prague ⇒ Alexander Fortunat photography